MIS Reports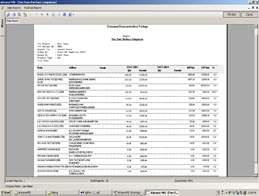 Creditors Chukti Ledger.

Debtors Chukti Ledger.

City-wise Outstanding.

Area-wise Outstanding.

Party Not Transacted After Date.

Due Statement.

Item Not Sold After Date.

FIFO Pending Statement.

Payment Reminders.

Broker Performance Report.

Party's Performance Report.

Expense/Sales Ratio.

Route Performance Summary.

Aging Analysis Report.

Item Stock Register and Summary.

Interest Calculator for Selective Settlements.

Party List and Product Rate List.